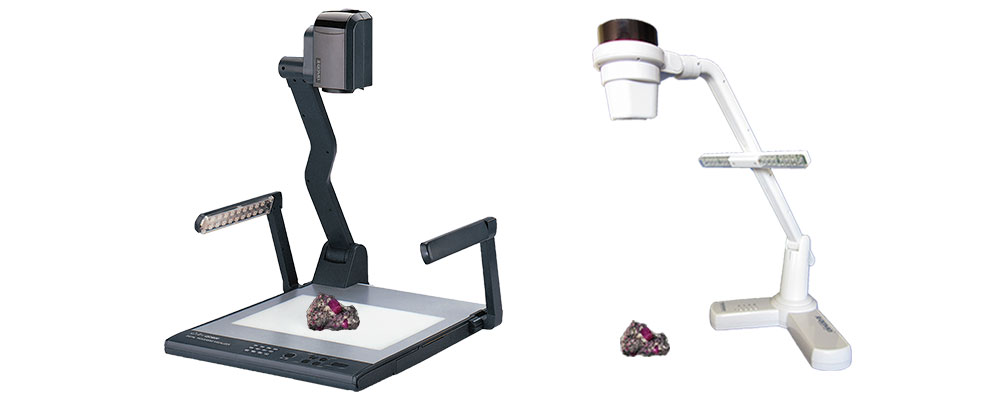 The visual presenter is a powerful image capture / video tool.
It offers great image quality while maintaining excellent color reproduction.Ideal for real-time presentations
The backlit base is a robust and practical platform for documents or images (eg objects: minerals, electronic parts, etc ...) to be acquired.
Maximum uptime and control through wireless remote control included.
Specifications
| | | | | | | |
| --- | --- | --- | --- | --- | --- | --- |
| Model | SP10 | QPC20 | QPC30 M | QPC60 | QD3800  | QD8000  |
| Zoom | Yes | Yes | 7x optical, 10x digital | 3x optical, 8x mecanic, 2x smart, 4x digital | 16x optical, 10x digital | 16x optical, 10x digital |
| Image sensor | 3.0 M CMOS | 5.0 M CMOS | 1/3" Pro CMOS | 5.0 M CMOS | 3.0 M CMOS | 3.0 M CMOS |
| Motorized Camera  | No | No | No | No | Yes | Yes |
| Output focus | 1024X768 | 1024x768 | WXGA, SXGA, XGA, VGA 720p  | XGA/ SXGA/ 720p | 1024x768, 1280x1024, 1080p | 1024x768, 1280x1024, 1080p |
| Focus | Auto/Manual | Manual | Auto/Manual | Auto/Manual | Auto/Manual | Auto/Manual |
| Image capture software / video | Included | Included | Included | Included | Included | Included |
| Stabilizer | Yes | Yes | Yes | yes | Yes | Yes |
| Internal storage capacity | / | / | 32 images | 100 images | 128 images | 128 images |
| White Functions / Black, negative,split screen, mirror, title. | Yes | Yes | Yes | Yes | Yes | Yes |
| Rotation | 0,90,180,270 | 0,90,180,270 | 0,90,180,270 | 0,18 | 0,90,180,270 | 0,90,180,270 |
| Frame Rate | 30fps | 30fps | / | 30fps | 30fps | 20fps |
| Video inputs and outputs | No | No | 1 input + 1 output VGA | 1 input + 1 output VGA, 1 output HDMI | 1 input + 1 output VGA, 1 output HDMI | 2 input + 2 output VGA  |
| Audio inputs | No | No | No | 1 | 4 | 4 |
| Audio outputs | No | No | No | 1 minijack | 1 mini-jack | 1 mini-jack |
| S-Video | No | No | No | No | 1 input + 1 output | 1 input + 1 output |
| C-Video | No | No | No | 1 output | 1 input + 1 output | 1 input + 1 output |
| USB 2.0 port | Yes | Yes | Yes | Yes | Yes | Yes |
| RS232 port | No | No | No | No | Yes | Yes |
| Brightness  | LED light bulb | LED light bulb | 3W LED light bulb | LED light bulb | 2 x 1.5W LED light bulbs | 4W LED light bulbs |
| LightBox | No | No | No | No | 8x1/2" x 11" | 8x1/2" x 11" |
| Integrated microphone | Yes | No | Yes | Yes | No | No |
| SD Card reader | No | No | Yes | Yes | No | No |
| Remote control | No | No | Yes | Yes | No | No |
| Temperature | 0ºC~40ºC | 0ºC~40ºC | 0ºC~40ºC | 0ºC~40ºC | 0ºC~40ºC | 0ºC~40ºC |
| Feeder | No | No  | AC 100~240V, 50/60Hz  | AC 100~240V, 50/60Hz  | AC 100~240V, 50/60Hz | AC 100~240V, 50/60Hz |
| Dimensions | / | Open: 343x315x87mm, Folded: 343x104x87mm | Open: 341x262x492mm, Folded: 528x208x159mm | Open: 381x198x431mm, Folded: 381x198x76mm | Open: 510x531x569mm  Folded:  510x409x119mm | Open:  480x508x579mm Folded:  429x429x109mm |
| Weight | 1.54 lbs | 1.763 lbs | 3.52 lbs | 4.4 lbs | 11.90 lbs | 11.90 lbs |